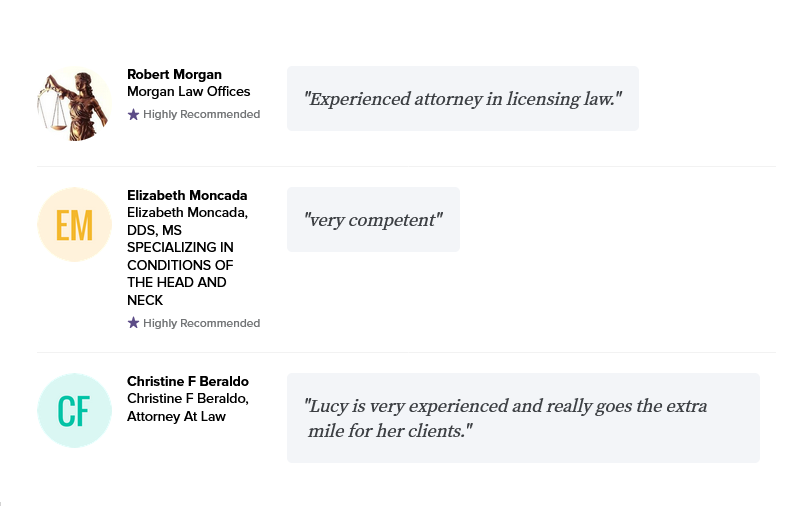 Here's a sample of other law client reviews we've received:
Lucy McAllister is among the finest Criminal Law Attorneys in America.

Lee E., Bail Agent / Owner |

Big Lee Bail Bonds
I'm very grateful to have found Lucy McAllister's Law Offices and I don't think I would have been able to move forward without them. With no idea how to proceed with my case, I was in need of a law office right away and was able to meet with Lucy on short notice. During our first meeting, she was very confident about the process and what to expect going forward. Every step of the way, Lucy and Sheena were very responsive to my questions. They listed out everything I needed to do clearly and concisely and always kept me updated through this long process. Even after the settlement was reached, they were still happy to address a few remaining concerns as I finally moved forward from this difficult time in my life. I appreciate all their time and hard work! 

Confidential Client
This law office responds quickly and professionally to matters. They helped me tremendously and I recommend them to anyone requiring services. My end result was excellent!

Kim D (on Google)
Ms. McAllister Is very sharp, strategic, attentive, extensively knowledgeable, and fair! I'm extremely grateful for her firm's help through a recent crisis. I will rely on her again, if ever needed.

Rebecca W. (on Google)
If you are facing an Accusation from the California Board of Behavior Sciences hire Lucy McAllister. She is poised to defend you, and your livelihood. Lucy found inconsistencies, and false allegations, in the Accusation against me. She is highly skilled in the complexities that clinicians in the helping profession face. She is aggressive with the Board and will fight for you.

Steve S.
I have nothing but good things to say about the law office of Lucy McAllister. Lucy spoke with me at the very start of the process to explain what the process would be. Her and her team followed up with me all along and provided excellent support and guidance. In the end, what they provided was actually much more than I expected. The team was very professional, honest, and responsive. I could not have asked for anything more. I hope that I am never in the situation to need to use her services again, but in the event that I do, I would not hesitate to have her and her team represent me again!

Jason P. (on Google)
I couldn't be any happier with Lucy's performance. I am SOOO glad its over but in the end my problems with the law are resolved. Not only did Lucy help me clear my name but she guided me through the tough decisions outside of the court room. I don't wish any problems regarding our legal system for anyone else, but if you feel like there is no way out, Lucy WILL help.

Will D. |

Santa Clara CA
If you need a DUI attorney, Lucy McAllister is the BEST! No only did she help keep my driver's license but she investigated all the evidence and found issues to challenge to help get the charges against me dropped. I referred another friend to her and will continue to recommend her to anybody who needs a lawyer – SHE IS GREAT!

Jose O |

San Jose CA
She did a great job, her and her team were very helpful and informative at every step of the way. Also very fair and affordable, even got a significant refund. Very glad I decided to work with Lucy!

Vincent D.
Lucy worked on my case about a year ago. She had the court to grant me the certificate of rehabilitation which restored a lots of my civil rights for an ex-felon. Currently, she is working on getting me a california governor's pardon. Hopefully, she will get it soon. Lucy is a really nice lawyer and willing to work with you and answer your questions. Please, contact her for your legal issues and you will not be disappointed!!!!! 🙂

Hung L. (on Google)
Hire this team….they're awesome! We hired Lucy and her team to defend against a vicious and false TRO. Each step of the way, we got compassion and support and clear explanations on the process and how best to defend ourselves. Lucy was a masterful strategist in and out of the courtroom. The San Jose office (the only one I've been to) can seem a bit chaotic at times but don't let that dissuade you…this team knows their stuff and will give their best for you. Just like a great restaurant (but much more important than where you eat dinner) you want an attorney who's in demand.

Suzanne R. |

San Jose CA
I've hired about 10 attorneys over the past 20 years for all types of cases (family, civil, HOAs, criminal) — and she is the best – no question about it – I even sat in court to watch how attorney's work. Lucy is sharp, quick, knowledgeable, skilled, experienced, compassionate, and tough — but most of all — Lucy does what it takes – without hesitation. I've seen her in court and I haven't seen anyone yet in criminal, civil or family court that could come close to her. What really caught my eye was the description on her website: "experienced, aggressive and diligent criminal defense attorney of proven success". I found this first hand to be the truth. Lucy and her staff worked in the background on my case and provided updates all along the way — I didn't need to talk with Lucy 24×7 — I didn't hire Lucy to hand-hold me — needing her attention 24×7 was not my problem. If you only hear what you want to hear, then you might miss out on some excellent legal advice — especially if you don't know the law — but if you have a legal issue and you need to trust an attorney to guide you — with compassion — you want to work with Lucy. I recommend Lucy and her staff, enthusiastically — and I'll hire her again in a heartbeat.

Chris Z |

Saratoga CA
I just retained Lucy and my world is spinning, she is my solid ground and so capable and professional. She guides me gently over my emotion to return focus to the important tasks at hand, steers in the forward, strategic direction and is fantastic in court. I feel her strength and demeanor gained my immediate trust and belief in her abilities. I have been blessed to have found her and has made this very stressful, unfamiliar and overwhelming situation bearable. Lucy's entire staff jumps to help and provides the necessary information to guide every step of the way. We have road to travel and she is with us all the way. All I can say are small words of Thank you as we move forward. All attorneys are busy she has made it to all the highly important sessions, taken her time to deal with each issue, and continues to bring us forward.

Linda S. |

San Mateo CA